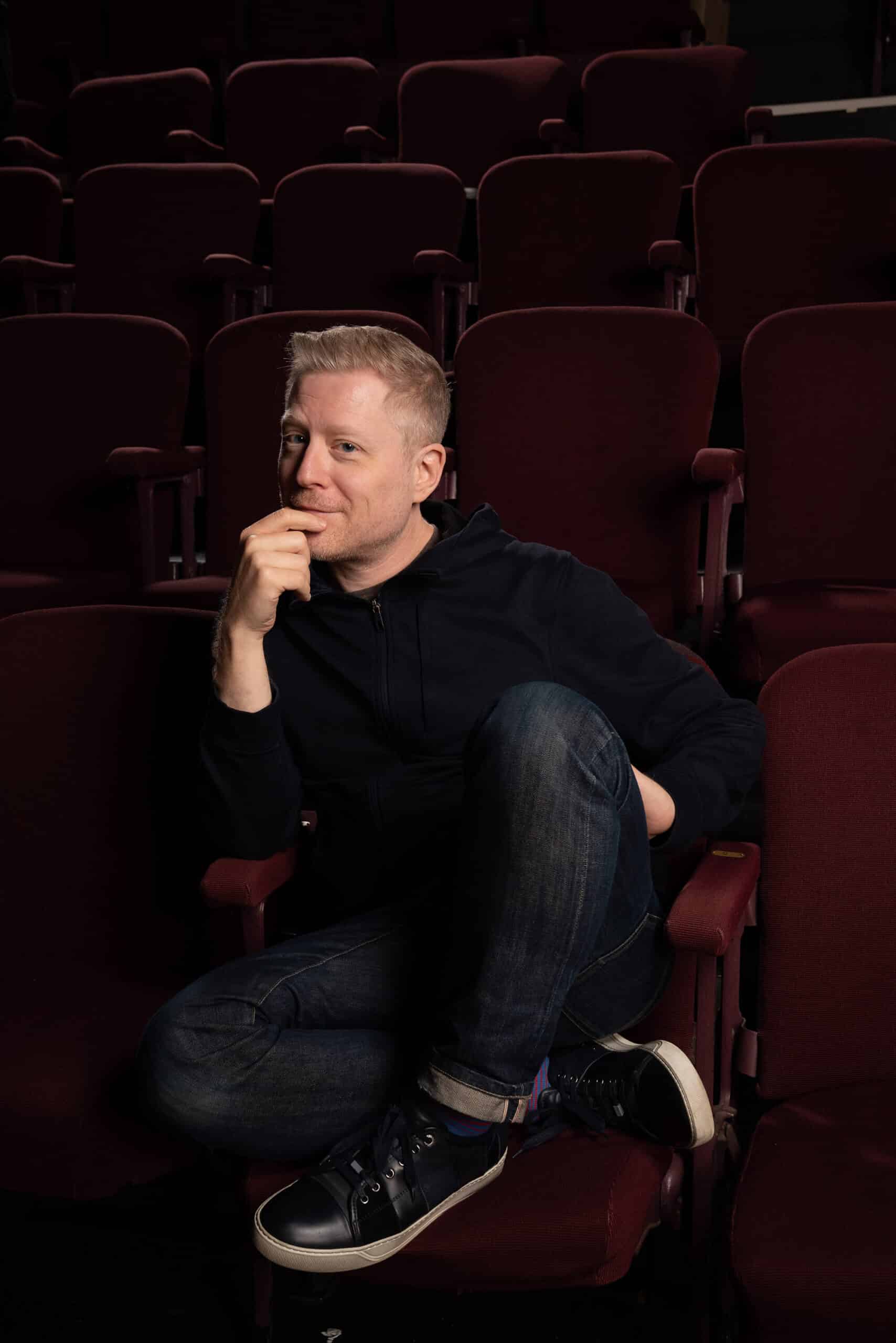 Anthony Rapp
Anthony Rapp has been acting and singing professionally since he was nine years old. He is best known for originating the role of Mark Cohen in Jonathan Larson's Tony Award- and Pulitzer Prize-winning musical, RENT, for which he shared an OBIE Award with the rest of the cast. He reprised his role in Chris Columbus's film version opposite other members of the original cast. Other Broadway credits include the revival of You're a Good Man, Charlie Brown; John Guare's Six Degrees of Separation; and If/ Then; and his Broadway debut was in Precious Sons with Judith Ivey and Ed Harris, for which he received an Outer Critics Circle Award and a Drama Desk nomination. Film credits include Adventures in Babysitting, School Ties, Dazed and Confused, Six Degrees of Separation, Man of the Century, Road Trip, A Beautiful Mind, bwoy, and Scrap. TV appearances include "The X-Files," "Law & Order: SVU," and "Psych." He currently plays the role of Commander Paul Stamets on the Paramount + television series "Star Trek: Discovery". In 2000, he released his debut album, Look Around, and in 2006, his New York Times-bestselling book Without You: A Memoir of Love, Loss, and the Musical Rent — on which this show was based — was published by Simon & Schuster.
Jonathan Larson
Music & Lyrics
JONATHAN LARSON (Music & Lyrics) Received the 1996 Pulitzer Prize for Drama for RENT. He also won the 1996 Tony Award for Best Musical and the 1994 Richard Rodgers Award for RENT and twice received the Gilman & Gonzalez-Falla Theater Foundations Commendation Award. In 1989 he was granted the Stephen Sondheim Award for the American Musical Theater Festival, where he contributed to the musical Sitting on the Edge of Future. In 1988, He won the Richard Rogers development grant for his rock musical Suburbia, which was staged at Playwrights Horizon. He composed the score for the musical JP Morgan Saves The Nation, which was presented by the En Garde Arts in 1995. Mr. Larson performed his rock monologue tick, tick…BOOM at Second Stage Theater, The Village Gate, and New York Theatre Workshop. In addition to scoring and songwriting for "Sesame Street," he created music for a number of children's book-cassettes, including Steven Spielberg's An American Tail and Land Before Time. Other film scores include work for Rolling Stone Magazine (publisher Jann Wenner). He conceived, directed, and wrote four original songs for Away We Go, a music video for children. RENT, his rock opera based on La Bohème, had its world premiere on February 13, 1996, at New York Theatre Workshop. Mr. Larson died unexpectedly of an aortic aneurysm on January 25, 1996, 10 days before his 36 birthday.
David Matos
Music & Lyrics
DAVID MATOS (Music & Lyrics) Performances/recordings include; Hamilton (National Tour, 2018 – present), Motown The Musical (1st national tour 2014-16), The Great American Trailer Park Christmas Musical (Rock-it Science Records 2014), Memphis The Musical (1st National Tour 2011-2013), Dreamgirls (National Tour 2010-2011), Anthony Rapp's Without You (1st production 2009), Saved (Playwrights Horizon '08), "Euan Morton, NewClear CD" (Lyric Partners '06), Altar Boyz (New World Stages, Sk-K-Boom Records 2005), The Great American Trailer Park Musical (Sk-K-Boom Records '05), "Daphne Rubin-Vega, Redemption Songs CD" (Sk-K-Boom Records '06). I am proud and honored to have made a small contribution to this beautiful and moving story. I have so many great memories of working, playing & traveling with Anthony. The best to all involved in making the production of Without You a reality.
Joe Pisapia
Music & Lyrics
JOE PISAPIA (Music & Lyrics) is a singer, songwriter, producer and multi-instrumentalist. He co-wrote the song "Visits to You," featured in Without You, and co-produced the 2000 Anthony Rapp album, Look Around, where it originally appeared. In his time as a member of Guster, Pisapia co-produced and co-wrote the band's best-selling 2006 album Ganging Up On the Sun and 2010's Easy Wonderful. He also produced and wrote the title track for k.d. Lang's 2011 album, Sing It Loud, and has recorded with dozens of artists, including Allison Russell, Ron Sexsmith, and Alicia Witt. Most recently, he produced the Pam Tillis album, Looking for a Feeling, which included the Pisapia-penned song, "Better Friends," and produced the latest Ben Folds album, scheduled for release in the spring of 2023. A Rahway, New Jersey native, he has called Nashville home for close to thirty years.
STEVEN MALER (Director) is the founding artistic director of Commonwealth Shakespeare Company, where he's directed over 20 productions of Free Shakespeare on the Boston Common, seen by over a million people. Other CSC works include Birdy, Death and the Maiden, and the premiere of Our American Hamlet. He adapted and directed a VR film Hamlet 360: Thy Father's Spirit, with Google. Other theater: Porcelain (SpeakEasy Stage Company), Top Girls, Weldon Rising (Coyote Theatre), and The L.A. Plays (American Repertory Theater). With Boston Landmarks Orchestra, he staged concert versions of A Midsummer Night's Dream, The Boys from Syracuse and Kiss Me, Kate. Opera: Romeo and Juliet (Boston Lyric Opera); Maria, Regina D'Inghilterra (Odyssey Opera); Péter Eötvös' Angels in America (BMOP/Opera Boston); and Thomas Adès' Powder Her Face (Opera Boston). His film The Autumn Heart was featured at the Sundance Film Festival. He received the prestigious Elliot Norton Award for Sustained Excellence.
Daniel A. Weiss
Musical Director & Orchestration
DANIEL A. WEISS (Musical Director & Orchestration) was the Associate Conductor for the original Broadway productions of RENT, Taboo (Boy George), Brooklyn, Hair (Assistant Conductor), and Music Director for Duncan Sheik's Whisper House, Songs for a New World by Jason Robert Brown at London's The Other Palace, Let It Be (Touring Production), and Skates The Musical (Studebaker Theater, Chicago 2022). Daniel is a member of the touring group Disney On Broadway. He has composed and arranged music for Genya Ravan's Rock and Roll Refugee, Happily After Tonight (Mateo Moreno) and together, with Anthony Rapp, wrote and arranged songs for the show Dedalus Lounge by playwright Gary Duggan. Artist Tours include Let It Be, Joan Osborne, Disney On Broadway, Anthony Rapp, Adam Pascal, Jeffrey Gaines, Alexis P Suter and Slam Alan. Most recently, he recorded the Hammond organ for the Goo Goo Dolls' upcoming album release and scored two movies: the romcom Ageless Love and a documentary featuring the photography by Bev Grant.
Tom Kitt
Additional Orchestration
TOM KITT (Additional Orchestration) is a Tony, Emmy, Grammy Award and Pulitzer Prize-winning composer, arranger, orchestrator, and music supervisor. He is the composer of Almost Famous; Next to Normal (Pulitzer Prize; two Tony Awards); If/Then; Flying Over Sunset; The Visitor; High Fidelity; Bring It On, The Musical; Superhero; and Disney's Freaky Friday; among others. Music supervisor, arranger, and orchestrator credits include Jagged Little Pill, The SpongeBob Musical, Head Over Heels, "Grease Live!," "Rise" (NBC); and the Pitch Perfect franchise. He is a founding member of Musicians United for Social Equity (MUSE) and NYCNext. His debut album, Reflect, is available on Sony Music Masterworks. @tomkittmusic
Eric Southern
Scenic Design/Lighting Design
ERIC SOUTHERN (Scenic Design/Lighting Design) is an Obie award-winning designer working in theater, opera, music, dance, and architecture. His designs have been seen in London, Paris, Avignon, Seoul, Athens, Australia, The Netherlands, Hannover, Zurich, Lincoln Center, The Goodman, BAM, MTC, The Kennedy Center, Atlantic Theater Company, CTG, and The Guthrie, among others. He received both his BFA and MFA at NYU and teaches at Northwestern University.
Angela Vesco
Costume Design
ANGELA VESCO (Costume Design) has designed numerous regional theatrical productions and music videos, including favorites, The Legend of Georgia McBride, The Brothers Size, and The Mountaintop. Her work for Without You has been seen around the globe. Upcoming: short film Type 1. Current: costume design for the TV show "American Rust."
BRIAN RONAN (Sound Design) has designed the sound for over forty Broadway shows. They include Some Like it Hot; Funny Girl; Mrs. Doubtfire; Mean Girls; Springsteen on Broadway; Beautiful; The Book of Mormon; Anything Goes; American Idiot; Next to Normal; Spring Awakening; and Cabaret. Many International, Regional and Off-Broadway credits.
Brian is the recipient of the Obie, Lucille Lortel, two Drama Desks, London's Olivier and two Tony awards.
David Bengali
Projection Design
DAVID BENGALI (Projection Design) – Broadway: 1776; Off-Broadway: Twilight: LA 1992 (Signature – Henry Hewes Award, Drama Desk Nom.); The Visitor (The Public Theater – Lortel Nom.); Einstein's Dreams (Prospect/59E59 – Drama Desk Nom.); Van Gogh's Ear (Ensemble for the Romantic Century – Drama Desk Nom.); The Great Leap (Atlantic Theater Co.); Streaming including Ratatouille: The TikTok Musical (Seaview); Circle Jerk (Fake Friends); Bollywood Kitchen (Geffen); Regional including La Jolla Playhouse, A.R.T, Yale Rep, Dallas Theater Center, Alliance; National Tours of 1776, Rockin' Road To Dublin. MFA: NYU.
Denise Savas
Production Stage Manager
DENISE SAVAS (Production Stage Manager) is thrilled to join LDK Productions for their production of Without You. Hailing from Chicago, Denise is a stage manager that has worked with various theatre companies, including Cabaret Zazou, Teatro Zinzanni, Theatre Wit, Northbrook Theatre, Shattered Globe Theatre, terraNOVA Collective, Emerald City Theatre, Provision Theater, Collaboraction, Stockyards Theater Project, For Youth Inquiry, Brain Surgeon Theater, and North Carolina Theatre for Young People. Most recently, Denise produced a feature documentary for Springhill Company. You can also find Denise using her creative skills as an Art Director and Production Stylist for brands like Live Nation and Showtime.
Mariko Takizawa
Assistant Stage Manager
MARIKO TAKIZAWA (Assistant Stage Manager) is a stage manager based in New York City, specializing in musical, play, immersive theater, opera, and traditional Japanese performing arts. Some of her credits include award-winning productions: Off-Broadway: Sleep No More (Punchdrunk/Emursive), Voyeur: The Window of Toulouse-Lautrec (Bated Breath Theatre Company), Speakeasy Magick (Emursive), Suicide Forest (The Bushwick Starr/ Ma-Yi Theater), The Hang (PROTOTYPE), Comfort Women (Playwrights Horizons Peter Jay Sharp Theater); and Opera: La Traviata (Rose Theater Jazz at Lincoln Center), Don Giovanni (Delphi/Berlin, Germany), Le Nozze Di Figaro (Delphi/Berlin, Germany).
Intuitive Production Management
Production Management
INTUITIVE PRODUCTION MANAGEMENT (Production Management) is a NY based theatrical production firm specializing in Off-Broadway, Opera, Dance and Live Events. Founded by Robert Signom III and Scott H. Schneider, its mission is to bring superior production values and personalized support to each performance. Collaborators include Mint Theater Company, Heartbeat Opera, Opera Naples, CAMP Stores, The American Opera Project, Parity Productions, LaGuardia High School, Tri-Cities Opera, Bronx Opera, and New Camerata Opera. Rome Brown, Production Manager, has been working as a production manager and production electrician in New York since 2004. Favorite credits include Love and Human Remains (Peter J. Sharp Theater), Puffs (New World Stages), The Old Man And The Old Moon (The Gym at Judson), H.M.S. Pinafore (Tri-Cities Opera), and Letters That You Will Not Get (The American Opera).
Andrew Drachenberg
Digital Marketing
Andrew Drachenberg LLC (Digital/Advertising) is honored to be joining the Without You team! As a digital agency for entertainment brands and productions, Andy has worked with over 50 productions and experiences including Anastasia, Baby Shark Live!, Blippi The Musical, Blues Clues & You Live, Elf: The Musical, Fiddler on the Roof, Latin History For Morons, The Band's Visit, The Color Purple, Waitress, Avatar: The Experience and more.
Red Rising
Promotions/Sponsorships
RED RISING (Promotions/Sponsorships) develops campaigns for live entertainment and events. Current/past clients include Anthony Rapp's Without You, Jersey Boys, Katsura Sunshine's Rakugo, Little Girl Blue, Jasper, The Near Disaster of Jasper & Casper, Summer, A Bronx Tale, Showstoppers!, A Letter to Harvey Milk and The Night of the Iguana. 25 years in, Michael Redman has worked on over 400 theatrical projects. redrisingnyc.com
LDK Productions
General Management
LDK PRODUCTIONS (General Management) was founded in 2007 by Lisa Dozier. Recent credits: Little Girl Blue (New World Stages), Katsura Sunshine's Rakugo (New World Stages), Be More Chill (Broadway, Off-Broadway, London, Tokyo), the immersive theatrical adaptation of the film Sideways, Skates: A New Musical (Chicago), A Lovely Sunday for Creve Coeur, A Letter to Harvey Milk (Off-Broadway, London). LDKProductions.com
JT Public Relations
Publicity
JT PUBLIC RELATIONS (Publicity) Founded by Joe Trentacosta, they have represented projects on Broadway, National Tours, Off-Broadway, developmental and industry presentations, films in release, special events and non-profit organizations. Current clients include Urban Stages, TheaterWorksUSA, Theatre Breaking Through Barriers, Houses on the Moon, SAY and Galleria on Third. He is the COO of Lillypops.com, the Executive Producer of Katsura Sunshine's Rakugo (New World Stages and World Tour), and the producer of the upcoming musical Six Triple Eight. Joe sits on the Board of Royal Family Production.
LISA DOZIER (Executive Producer) Select current/recent credits: Little Girl Blue, Katsura Sunshine's Rakugo, Be More Chill (Broadway, Off-Broadway, West End, Tokyo), the immersive theatrical adaptation of the film Sideways, Skates: A New Musical, A Lovely Sunday for Creve Coeur, A Letter to Harvey Milk (Off-Broadway, London). Projects in development include Edie Brickell's 38 Minutes. Lisa was the general manager of the National Alliance for Musical Theatre's Festival of New Musicals for eleven years and was also the founding producing director of the regional theatre Miami New Drama. She founded the theatrical general management firm LDK Productions in 2007 and is a professor of practice at the University of Florida. Love to Mark & the 5: Emmy, Colton, Maddy, Noah, and Hana. This one's for Andrea Stoffel, who always measured life in love.
Chris Henry
Creative Producer
CHRIS HENRY (Creative Producer) Highlights: Royal Family Writing/Directing Credits: Anne of Green Gables (based on the novel by L. M. Montgomery), Women On Fire: Stories from the Frontlines, Louie, Red, and the Jazzman (with Wycliffe Gordon), Nobody Suspects a Butterfly (originally written for HBO Sports), and Genya Ravan's Rock and Roll Refugee. Directing Credits Royal Family: Thoughts of a Colored Man, Love/Sick, Four Last Things, Dedalus Lounge, Safe Home. Other Directing Highlights: Joe (Cherry Lane), Trans-Euro Express (IAC), Art of War (MSG). For my Dad, Art Henry. IG: RFPCHRIS
Royal Family Productions
Producer
ROYAL FAMILY PRODUCTIONS (Producer) was established in 2007. Highlights include Genya Ravan's Rock and Roll Refugee, John Cariani's Love/Sick (Premiere), Anne of Green Gables: Pt 1 starring Ali Ewoldt, Sean Cullen's Safe Home (World Premiere) Women on Fire: Stories from the Frontlines & Scorching the Dividing Lines featuring Kathleen Chalfant, Maddie Corman, Andréa Burns, Adriane Lenox, Julie Halston, Stephanie J. Block, Adrienne C. Moore, Mary Testa, Maryann Plunkett, Ashley Williams, etc. Development productions include Keenan Scott II's Thoughts of a Colored Man, Ayodele Casel's Diary of a Tap Dancer V.4, Anthony Rapp's Without You (NYMF) Royalfamilyproductions.org
Cue to Cue Productions
Producer
CUE TO CUE PRODUCTIONS (Producer) is a father-and-son production company with a major interest in theatre and the arts. Jeff Vinik is the owner of the NHL's Tampa Bay Lightning and the former manager of the Fidelity Magellan Fund and Vinik Asset Management, previously a $10 billion hedge fund. Joshua Vinik, an aspiring stage manager, has worked at the Muny in St. Louis for their 2021 and 2022 summer seasons and will soon receive his degree in graphic design from the Savannah College of Art and Design. Broadway: MJ, Funny Girl, American Buffalo. @cuetocueproductions
Ryohei Otani & Motoko Kimura
Producer
RYOHEI OTANI & MOTOKO KIMURA (Producer) Ryohei is thrilled to make his Off-Broadway producing debut in this show with much heart and is proud to help bring this beautiful show to Off-Broadway. He hopes this show touches the audience's hearts and brings joy to them. Motoko is a TV, Film, and Theater creator/producer in Japan. In the theatrical field, Motoko has produced 13 musicals and an astonishing 32 plays in Japan and is very excited to join this musical.
Brian J. Heck/Harish Karthikeyan
Producer
BRIAN J. HECK/HARISH KARTHIKEYAN (Producer) Brian created Anthony's first official website in 1997 and produced a RENT film fundraiser for Friends in Deed in 2005. He is a performing arts producer and marketer and is the marketing director of The Orchestra Now at Bard College. He is thrilled to be working on a project with Anthony again. Harish holds a Ph.D. in Computer Science from New York University and is currently employed as a research scientist. A huge fan of theater, he's excited to be a part of this production that revolves around a powerhouse talent like Anthony.
Jason Turchin/Shimmy Braun
Producer
JASON TURCHIN/SHIMMY BRAUN (Producer) Jason Turchin and his wife Kira Turchin are founders of The Broadway Investor's Club (www.investingbroadway.com). Projects include Hadestown, Sweeney Todd, Merrily We Roll Along, A Beautiful Noise, Kinky Boots, The Secret Garden, Be More Chill and many more. Love to Joshua and Shaina. Follow us @investingbroadway /// Shimmy Braun is honored to be involved in Without You, having followed Anthony's career since the OBC of RENT. Current projects include Broadway's Life of Pi; Good Night, Oscar; NYTW's Merrily We Roll Along and Co-producer of Hester Street (In development). Shout out to my amazing family, friends, and the BPL!
CHARLOTTE COHN (Producer) Lead Producer of Handle With Care (New York Times Critics' Pick) and the critically-acclaimed Church & State, both written by her husband, Jason Odell Williams. Directing highlights: Best Friends (JAZZ at Lincoln Center) and Church & State (Berkshire Theatre Group). Acting highlights: La Boheme, directed by Baz Luhrmann, and Coram Boy on Broadway. Charlotte is an Ovation Award Winner and Bay Area Critics' Circle Award nominee. She is currently writing a musical about her father's true story of escaping from Denmark to Sweden during WWII. To Imogen and Jason – life is nothing Without You!
Abigail E. Disney
Producer
ABIGAIL E. DISNEY (Producer) is an Emmy-winning documentary filmmaker and activist. Her latest film, The American Dream and Other Fairy Tales, made its world premiere at the 2022 Sundance Film Festival. She advocates for real changes to the ways capitalism operates in today's world. As a philanthropist, she has worked with organizations supporting peace-building, gender justice, and systemic cultural change. She is Chair and Co-Founder of Level Forward, a lead producer of POTUS, Slave Play, and the national tour of What The Constitution Means To Me.